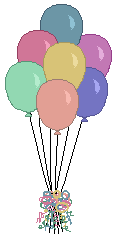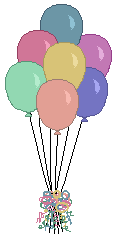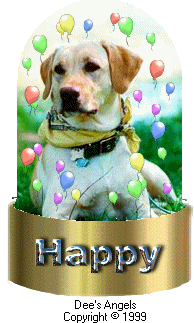 My sweet yellow girl Casey is turning 3 years old. It is hard to believe that little yellow fur ball which I held close to my cheek and snuggled with almost three years ago will now be 3 years old! I never dreamed that she would grow up to be such a wonderful pet. She was very trying as a puppy, but that is all behind her now. She has made up for all of the socks, mittens, bath towels, and even my $200 eye glasses that she chewed.
This birthday page is to show tribute to Casey for the wonderful companion that she has become. If you have been to my website before, you know that I had a Chocolate Lab named Maggie who was also very special to me. I never thought I would ever have a companion as loving and faithful as Maggie was and although Casey could never replace Maggie, she has found a special place in my heart.
Casey has taught me several things. The first and most important thing that she taught me was that buying a pet is for life. Casey was a very difficult and mischevious puppy. I told myself I was going to work very hard at training her to be a good companion and loving family pet. You can only get out of something what you have put into it. My husband and children helped at training her too. We all worked as a team in training her. Some things were easy and some were difficult.
Casey has also taught me to appreciate the outdoors. It is very peaceful and quiet in the early morning hours. Although she doesn't really need to be kept on a leash, I do put a leash on her every morning as we walk around our property. It is amazing how many places she has to sniff. The blades of grass all look the same to me but her nose tells her that a bunny hopped through there, or maybe a Robin landed there to catch a nice juicy worm, or possibly some other critter passed through during the night.
I love to watch Casey's expressions as we walk. She has a habit of stalking bunny rabbits. If she sees one, she freezes. She points very beautifully, especially since we never taught her to do that. I guess that is instinct for you. Anyway, she can stand motionless for minutes at a time. Then she will lift just one paw and carefully place it back onto the ground, stand completely still for another minute or so and lift another paw. She continues to do this until she gets about 5 feet away from the rabbit. Although I know she will never catch one (at least I hope she doesn't) I stand there with her motionless waiting for the bunny to hop away.
As I write this page my sweet girl is laying under my computer desk fast asleep. I am hoping that we have many more birthdays together.







FastCounter by LinkExchange
All Original Content and Graphics are Copyright Protected ©1999.
Helen Blank, Happy Labs, All Rights Reserved.
Unauthorized duplication of any information on this site is strictly prohibited.